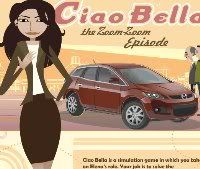 So sometime last fall I got addicted to a game called Ciao Bella Romanza, which is like the Sims but online, free and takes place in some Little Italy in Montreal or something. You have certain goals that center around getting a man (I know, it's a bit demeaning), but the game was just challenging enough while avoiding being frustrating.
Unfortunately you can't play the original for free, but Mazda has sponsored a
new version
that is shorter, less satisfying, and riddled with advertising. Your first goal is to purchase a Mazda CX-7, and what I found amusing was that while you can't walk next door to the church (fun fact: beseech god and you get miracles and stuff!) because you don't have a car, you somehow can get to the Mazda dealership across town. And what really impresses me, besides the gratuitous appearance of the vehicle is that when you buy it
the car doesn't cost you anything
. Which is a smart move on their part. If you're sponsoring a game that 300 people are playing at any given time, you don't want to remind them that buying a new car
actually costs money
. I can appreciate the wisdom, however unrealistic it makes the game.
Bonus points for
Lazylaces
, my unending source for mindless point-and-clickness. Plus they have message forums for each game and eventually someone will post a walkthrough. Which, unfortunately, I always seem to require.