On my first trip ever! This means I need to photoblog, since that's the kind of thing that digital cameras are for.

First I packed my suitcase. Notice that I have everything I need: makeup, pumps, about a ream of paper printed and stapled, and gratuitous amounts of black clothes. As we know, black is the perfect office colour because it matches itself and makes it harder for your coworkers to notice that you wear the same exact thing every week.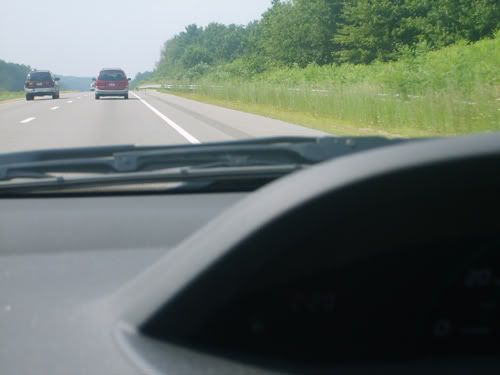 The drive. It's hard to see, but you'll notice in the right corner (and yes, it's faint and blurry) but it's TWO O'CLOCK. And I am in my car. What you can't hear is me rocking out to techno music psyched as ever.


Oh and who's this? Aww, it's Lulu being intimidated by enormous SUVs on all sides. Play nice, Lulu, and maybe these behemoths won't eat you.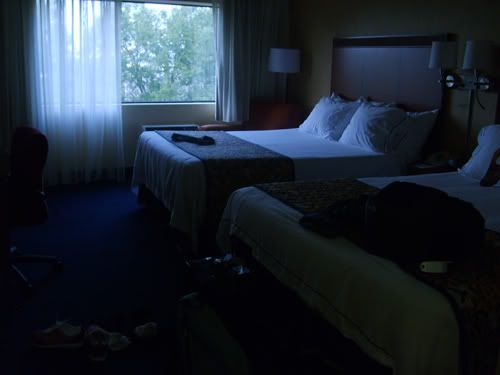 And here's my room. "The one with two queen size beds?" the kind lady at the front desk inquires. "I guess," I reply, unaware of my good fortune. Practically, this is useless, but I am so far in the mindset of a ten-year-old at summer camp that it just seems SO COOL. Plus, as Nip pointed out, I simply *must* jump from bed to bed at some point tonight.


So 350 miles away from home and what do I get? The same thing I would have gotten from the place across the street. Oh, plus a cannoli. Oh, and in this one I know that nobody's spit in it out of spite. At least, not anyone I know.




So that's my first attempt at a photoblog. I'm aware of the mundanity (is that a word?) of the entire experience, but at the very least it's new to me and gives me something to write about. I think I'll write about the people at the airport later.